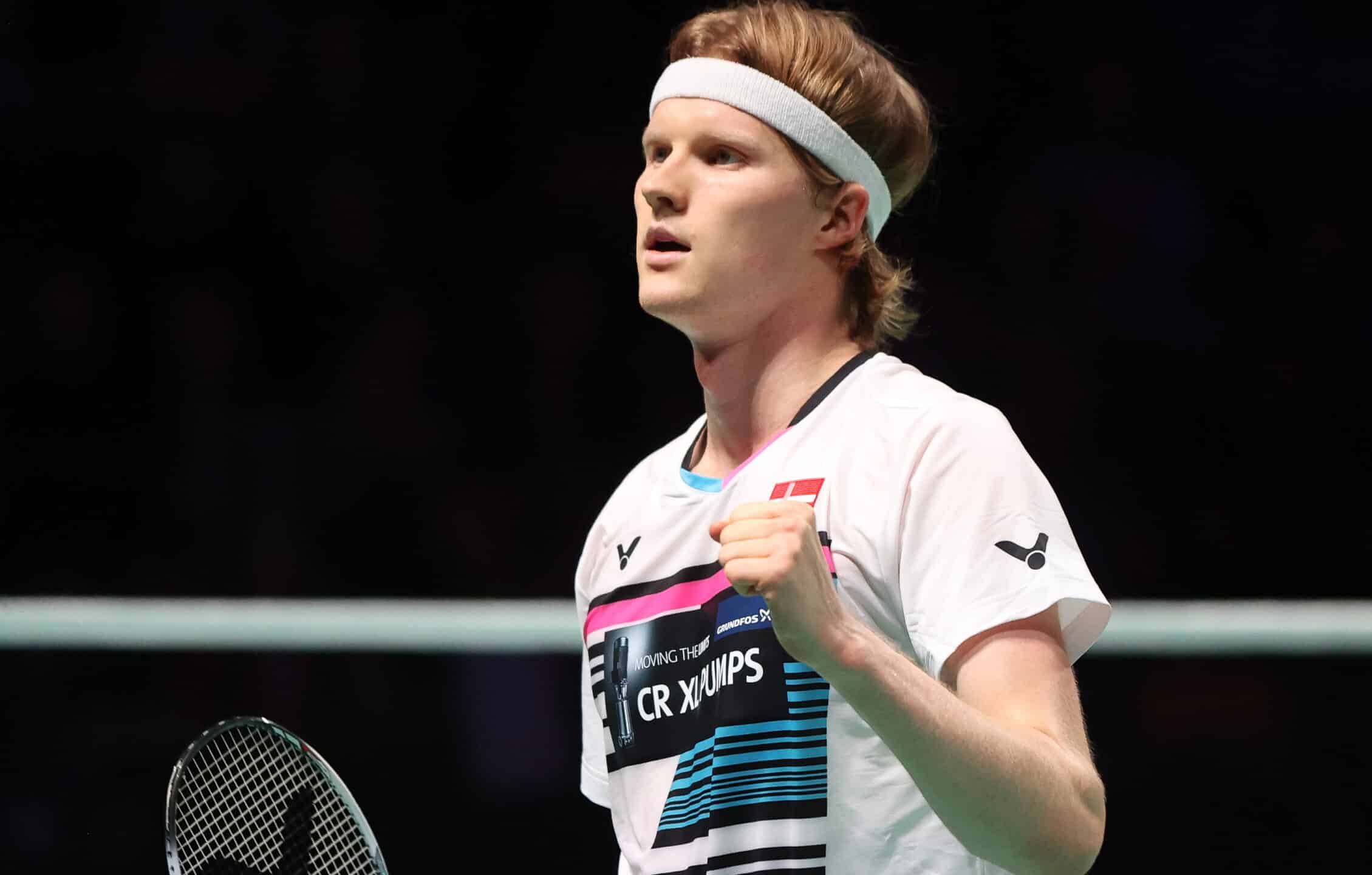 The draw for DENMARK OPEN presented by VICTOR is a dramatic one for the Danish players. Almost every Danish player/double must face a world-class player/double in the first round. Get an overview of the draw right here.
This year's DENMARK OPEN presented by VICTOR will be an exciting one for the Danish stars. The draw has just been published and it is not kind to the Danish players, and they will all have to perform at their top level to move on to the second round on home soil.
World champion and homeboy Viktor Axelsen (1) will face his World Championships 2022 final opponent Kunlavut Vitidsarn in the first round. Anders Antonsen (3) is up against Shi Yuqi, while Rasmus Gemke is going to compete against Kenta Nishimoto who has looked strong in his last tournaments. At last, Hans-Kristian Vittinghus got the chance to get his first win against Jonatan Christie (8). So be ready for thrillers of first round matches in the men's singles category.
Click here to buy your ticket for DENMARK OPEN presented by VICTOR
The world's second-oldest international badminton tournament also offers some sweets in the women's singles. See it through Danish spectacles Mia Blichfeldt and Line Kjærsfeldt could make some great victories if they are able to win against Carolina Marin (4) and the winner of last year's edition, Akane Yamaguchi (1). Blichfeldt got her first and only win against Marin at Denmark Open in 2018. Maybe it is up for second win for the Dane.
On paper, Line Christophersen and Julie Dawall got some good chances to qualify for the second round, as they will play against Pai Yu Po from Chinese Taipei and Yvonne Li from Germany.
Click here to see the full draw for DENMARK OPEN presented by VICTOR
Of course, as a Super 750 tournament there are so no easy matches at DENMARK OPEN presented by VICTOR. But for Maiken Fruergaard/Sara Thygesen the draw is though. On the other side of the net Japanese, All England 2022 winners Nami Matsuyama/Chiharu Shida (3) are waiting in the first round. But in the only match between the two doubles, the Danes won in three games back in 2018 at Dutch Open.
A new Danish women's doubles are playing together for the first time when they go on court in Odense. Amalie Magelund/Alexandra Bøje will play together due to the injury of Magelund's partner Freja Ravn. Magelund/Bøje are facing Treesa Jolly/Gayatri Pullela from India in their first round match.
Last year, Kim Astrup/Anders Skaarup (6) made it to the final for the first time in Odense. This year they start meeting Leo Carnando/Daniel Marthin in the first round. If they beat the Indonesians, they might be up against countrymen Daniel Lundgaard/Mathias Thyrri if they beat the Popov brothers. In the other end of the draw, first seeded Takuro Hoki/Yugo Kobayashi, who won Denmark Open last year, awaits Lasse Mølhede and Jeppe Bay.
In mixed doubles, Mathias Christiansen/Alexandra Bøje are back after an injury for Christiansen. The Danes must play their best and be back in shape to go through to the second round. Because in the first round Tan/Lai (8) from Malaysia will be on the other side of the net.
Mikkel Mikkelsen/Rikke Søby versus Yang Po-Hsuan/Hu Ling Fang is the last match with Danes participating. That will be a difficult match as well.
These is just some of the matches in the first round of DENMARK OPEN 2022 presented by VICTOR. Players like Kento Momota, Lee Zii Jia, Kevin Sukamuljo/Marcus Gideon, Tai Tzu-ying and Zheng Siwei/Huang Yaqiong will also be on court in the first round.
Here is an overview of the Danish matches at DENMARK OPEN 2022 presented by VICTOR:
Men's singles:
Viktor Axelsen (1) vs. Kunlavut Vitidsarn
Anders Antonsen (3) vs. Shi Yuqi
Rasmus Gemke vs. Kenta Nishimoto
Hans-Kristian Solberg Vittinghus vs. Jonathan Christie (8)
Women's singles:
Line Kjærsfeldt vs. Akane Yamaguchi (1)
Mia Blichfeldt vs. Carolina Marin (4)
Line Christophersen vs. Pai Yu Po
Julie Dawall vs. Yvonne Li
Men's doubles:
Kim Astrup/Anders Skaarup (6) vs. Leo Carnando/Daniel Marthin
Lasse Mølhede/Jeppe Bay vs. Takuro Hoki/Yugo Kobayashi (1)
Daniel Lundgaard/Mathias Thyrri vs. Christo Popov/Toma Junior Popov
Women's doubles:
Maiken Fruergaard/Sara Thygesen vs. Nami Matsuyama/Chiharu Shida (3)
Amalie Magelund/Alexandra Bøje vs. Treesa Jolly/Gayatri Pullela
Mixed doubles:
Mathias Christiansen/Alexandra Bøje vs. Tan Meng/Lai Jing (8)
Mikkel Mikkelsen/Rikke Søby vs. Yang Po-Hsuan/Hu Ling Fang