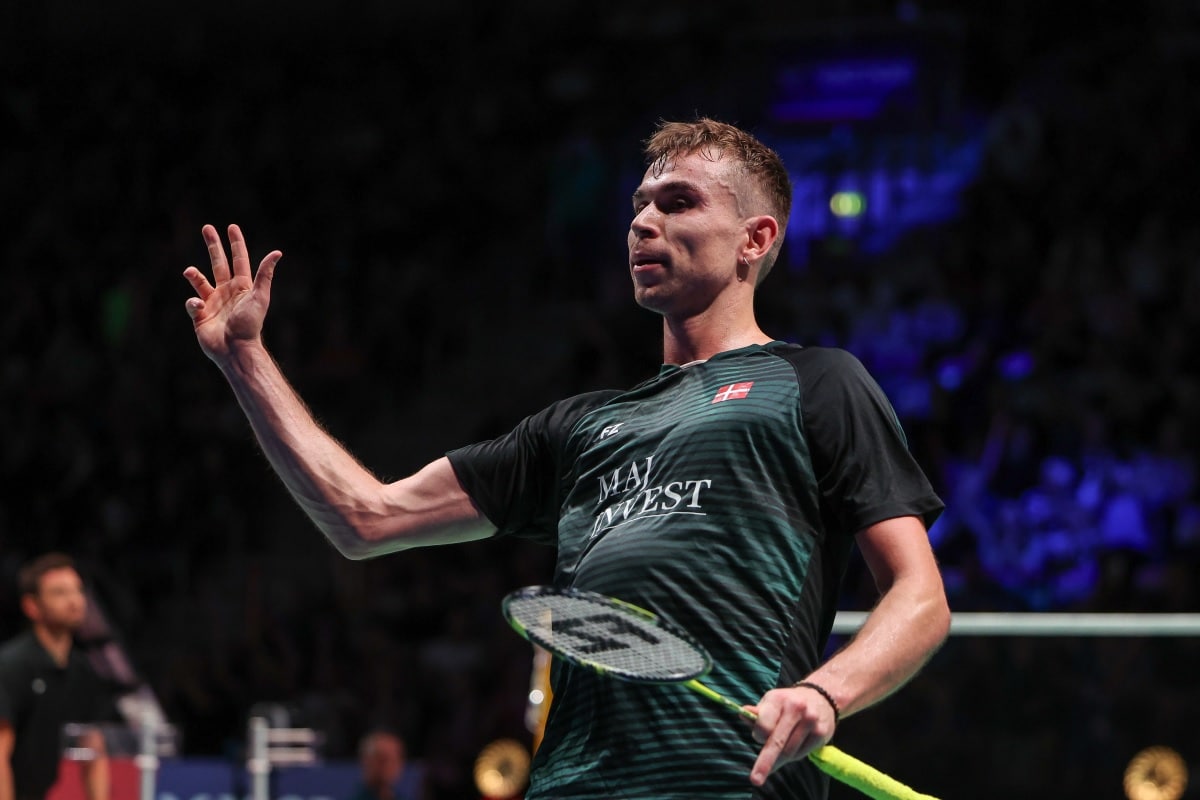 The second day at VICTOR DENMARK OPEN followed in the footsteps of the first. Rasmus Gemke delivered one of the tournaments biggest sensations yet, when he beat the world champion Kunlavut Vitidsarn. Read along for the Danish fixtures, their results, and quotes from the players.
Click here to see all the results on Wednesday
Mathias Thyrri/Amalie Magelund – Chen Tang Jie/Toh Ee Wei: 15-21,21-23
The ninth ranked Malaysian pair had never before today's matchup met the Danish mixed double. Thyrri/Magelund sought resurrection from the last tournament on home soil, where they fell short in the first round of the world championships in Copenhagen, due to Mathias Thyrri's ankle injury leading up to the championship.
After two close and well fought games the Danes face a first-round exit. The Malaysian pair hit the ground running, and it turned out to be too big of a challenge for Thyrri/Magelund, even though they came remarkably close in a well-played second game.
– Disappointment and annoyance, which is how Mathias Thyrri described his emotions after the first-round loss. Even though the loss was a bitter pill to swallow, the pair can take a lot of positives with them through the rest of the season, and they could point out their flaws and mistakes.
–  I feel like we were good on our own serve, which is one of our strong points. On the other hand, we were not so great on their serve, and we were not able to return the shuttles well enough, said Amalie Magelund after the match.
Despite the defeat, the pair could enjoy the moment of taking the court to their first VICTOR DENMARK OPEN as a pair and play a tournament in their home country free from injury.
–  It was great. We had a tough world championship experience on home soil, so we wanted to show our best, and I feel like we did that in the second game, added Thyrri about the home ground experience in Odense.
Line Kjærsfeldt – Pornpawee Chochuwong:19-21,21-17, 22-24
Line Kjærsfeldt has stood against the Thai number 13 in the world three times before today's matchup, and all three fixtures has ended up with a victory for Chochuwong. Today was a chance for the Danish single player to turn the momentum around.
Line Kjærsfeldt came close to breaking the stream of defeats against Chochuwong. After three close and well played games in a dramatic match Pornpawee Chochuwong moves on to the second round of VICTOR DENMARK OPEN.
– I am disappointed and frustrated. The margins were against me, had they been with me, then I would have stood here with the win, said Kjærsfeldt about the close fought match.
Kjærsfeldt played a great match in front of an equally great crowd in Odense. Despite the tough defeat, Line Kjærsfeldt was able to put her performance and home ground experience into words.
– Despite it all it was a wonderful experience. I think i played a good match, so it is very frustrating not standing here with a victory, said Line Kjærsfeldt.
 Maiken Fruergaard/Sara Thygesen – Rin Iwanaga/Kie Nakanishi:16-21,15-21
A rematch of a remarkably close and exciting world championships quarter final created high expectations. The two double pairs have met two times before, both fixtures in the ongoing season and both fixtures ended with Japanese victory.
Maiken Fruergaard/Sara Thygesen fought bravely but did not manage to break the trend of Japanese victories. Iwanaga/Nakanishi played with control and initiative, and never seemed to be in any sort of distress. The Danish double pair played well in brief periods during the match, but the Japanese pair managed to close the match in two comfortable games.
– I feel like it is our own fault. It is frustrating that we lose, not because they play well, but because of our own mistakes. They did play well, but we did not reach any level, we make too many mistakes and I do not feel like it reflects how we have trained leading up to this tournament, said Fruergaard after the game.
– I do not feel like they are difficult to play against. What makes it difficult is our way of handling things, which is where our trouble lies. We had a great game against them at the world championships, added Thygesen.
Despite the frustration about the performance, the pair had time to put into words how it is playing in front of a great home crowd.
– It is always great to play at home, it is just so annoying that we cannot deliver some more. But it is a great feeling to walk in there and feel that it is you they are cheering for, said Fruergaard.
Rasmus Gemke – Kunlavut Vitidsarn (4. seeded):21-15,15-21,21-19
Rasmus Gemke beats the world champion and advances through to the second round.
– It is ridiculous, it is crazy, and I can feel it running through my mind right now with happiness, and what a surprise it was. I was of course on the ropes, and it was hard to find flaws in his game, he was playing well, not that I was playing badly, it is crazy, said an ecstatic Gemke after the match.
It was indeed a ridiculous match. It had its ebbs and flows, and the two single players delivered world class badminton. Gemke managed to break a four-point deficit at 15-19 and won six points in a row and therefore the match.
The atmosphere matched the world class play, and Gemke put into words what an experience it was playing in front of a loud and packed Jyske Bank Arena.
– It was amazing. The world championships were a crazy experience, and you can just feel that it touched something in the Danish badminton-hearts, another great experience out there, said Gemke.
In the second round the Taiwanese singles player Lin Chun Yi awaits Rasmus Gemke.
Viktor Axelsen (1. seeded) – Magnus Johannesen: 21-7, 21-9
Viktor Axelsen proved to be too much of a challenge for the up-and-coming Danish men's single player Magnus Johannesen.
The two Danes played the first of two purely Danish fixtures Wednesday evening, and the result was never in any doubt. From the first point till the last the world number 1 Viktor Axelsen left nothing to chance and was in complete control throughout a comfortable victory in two games.
– It was good to get going, I am happy about the victory. But I am struggling with my body, so I think the chances of me playing tomorrow are very slim, said a downcast Viktor Axelsen.
– It was not what I had hoped for. Of course, it was a very tough match, to play against Viktor. If I were to have a chance, I had to play my best, and I did not today, said Magnus Johannesen after the match.
Despite the defeat, Johannesen had time to put his debut experience and the support from the crowd into words.
– It was great even though I had a tough time against Viktor. The support was great even though it was a clear win for Viktor.
In the second round the Malaysian star Lee Zii Jia awaits Viktor Axelsen if he is fit to play. If he withdraws from the tournament, we will announce it as soon as possible.
Line Christophersen – Mia Blichfeldt: 21-18, 21-14
Line Christophersen managed to beat fellow Dane Mia Blichfeldt in two games Wednesday night.
Mia Blichfeldt hit the ground running and was in good control during the most of first game. Line Christophersen managed to fight back and won eight points in a row before taking home the first game. From the beginning of the second game Christophersen was in complete control and won the match in two games.
– It is a huge relief, and I am very happy, said Christophersen about her emotions after the match.
– A bit of a weird match, I could sense that we were both nervous. Weird play during the match and a lot of weird duels, added Line Christophersen.
The support from the crowd towards the Danish players has been amazing throughout the day, and Christophersen put into words how the support felt during the match against her compatriot.
– A great atmosphere, but you could feel that you played against another Dane, said Christophersen.
In the second round Chinese Zhang Yi Man await Line Christophersen.
Kim Astrup/Anders Skaarup (7.) – Keiichiro Matsui/Yoshinori Takeuchi: 21-14, 21-17
The Danish pair are playing some of their best badminton and are amongst the favorites for this year's VICTOR DENMARK OPEN. They managed to continue their great play and won their first-round fixture in two comfortable games against the Japanese pair, even though the second game was more demanding than the first.
– It is great to get going. Two games, and it was great to step on the court. A lot of people had stayed in the arena to watch us play, it was a wonderful experience, said Astrup about the match and the atmosphere amongst the home crowd.
– I feel like when we create variation in our game, reset a little, and get going with our offensive play, then we break through. We sharpen our game at the end, added Skaarup about the end of the second game.
In the second round the Danes will face the German pair Mark Lamsfuss/Marvin Seidel.