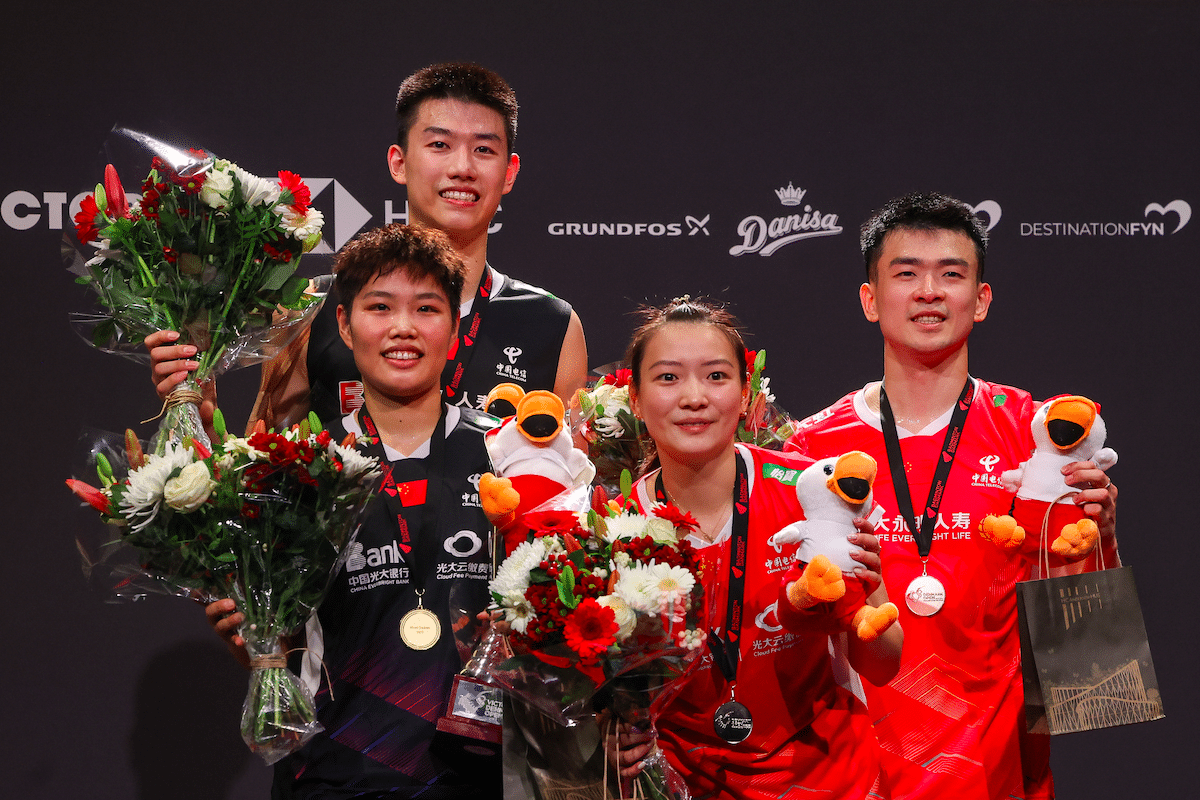 After six days of world class badminton and some of the sport's biggest names and brightest stars, five winners have been named after five intense finals. 
WD: Nami Matsuyama/Chiharu Shida (5.) – Chen Qing Chen/ Jia Yi Fan (1.): 16-21, 13-21. 
Chen Qing Chen/Jia Yi Fan have once again won VICTOR DENMARK OPEN. 
The chinese pair was the favorite beforehand and hit the ground running in the final. The japanese pair Matsuyama/Shida fought bravely and showed glimpses of control, but the challenge of the four times world champions Chen/Jia proved to be too much of a challenge, and the chinese ended up winning comfortably in two games.
It is Chen/Jia's second Denmark Open title after having won last year. They were in the final in 2019 where they lost to Baek Ha-na/Jung Kyung-eun from Korea. 
XD: Zheng Si Wei/Huang Ya Qiong (1.) – Feng Yan Zhe/Huang Dong Ping (3.): 21-16, 15-21, 26-24. 
Feng Yan Zhe/Huang Dong Ping have avenged their finals loss from last year and won VICTOR DENMARK OPEN 2023. 
The purely chinese final in the mixeddouble category was a matchup between two of the category's best pairs and a repeat of the Denmark Open final of 2022. 
Last year Zheng/Huang came out victorious in a thrilling match in three games. This year the two chinese doubles delivered exciting badminton once again and it proved to be almost a complete reenactment of last year's final, but with a different outcome as Feng/Huang won their first Denmark Open title
In a once again thrilling three game match with both pairs taking turn in offensive minded play and gaining and losing control. The crowd loved what they saw from the two pairs, and Feng/Huang received standing ovations as they celebrated their win.
WS: Carolina Marina (6.) – Chen Yu Fei (2.): 14-21, 19-21. 
Chen Yu Fei wins her first VICTOR DENMARK OPEN in her second final. 
The two latest Olympic gold winners faced each other in what was predicted to be one of the highlights of Sunday's finals. 
The first game had Chen Yu Fei written all over it, and the chinese single player were on cruise control towards the title. Carolina Marin fought back in the second game, but Chen Yu Fei eliminated her mistakes, kept her head cool and took home the trophy. 
MD: Muhammad Shohibul Fikri/Bagas Maulana – Aaron Chia/Soh Wooi Yik (5.): 13-21, 17-21. 
Aaron Chia/Soh Wooi Yik have won their first VICTOR DENMARK OPEN title. 
In a matchup between last year's indonesia All England-winners against last year's world champions the latter was dominant throughout the match. 
Fikri/Maulana have been one of the tournaments most positive surprises, but in the final there was no doubt that Chia/Soh would win the match and take home the trophy. 
It is Chia/Soh's first Denmark Open title. 
MS: Lee Zii Jia – Weng Hong Yang: 12-21, 6-21.
Weng Hong Yang delivers one of Sunday's biggest upsets and beats Lee Zii Jia comfortably to take home the VICTOR DENMARK OPEN 2023 trophy.
The Malaysian start never got going, and the young Chinese player took advantage of every mistake from the Malaysian, and played some great offensive badminton. Two quick games, and the game was never in doubt. 
Weng Hong Yang wins his first Super 750 tournament in his first Denmark Open final.